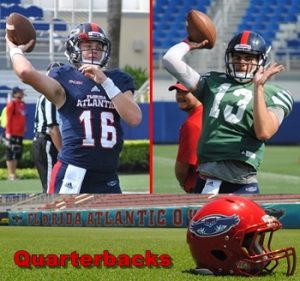 The most important, and most intriguing, battle of FAU's fall camp will last about two weeks, though the repercussions will reverberate for years.
The biggest decision FAU coach Charlie Partridge and his staff will make in the coming weeks will be selecting a starting quarterback.
"At the end of the day, you'd like to, around two weeks before the first game, be able to name who your starter is for Southern Illinois," Partridge said.
Redshirt sophomore Jason Driskel and redshirt freshman Daniel Parr are the contenders in Charlie Partridge's first quarterback battle as a head coach and the first at FAU since the start of the 2013 season.
Having played in 10 games last season, starting twice, Driskel has the experience advantage but spring practice concluded without either player separating himself from the other.
"They both have a good grasp of the offense," Partridge said. "They both know where their progressions start and work through to. They both have a good grasp of the verbiage and the language and how to execute the offense."
Both Driskel and Parr are young, which could make Partridge's decision process even more challenging.
Youthful mistakes made by both quarterbacks could make it seam as though the leader in the battle fluctuates from day to day.
"The reality is there's going to be days where one performs better than the other, then it flips the other way," Partridge said.
Partridge says he's seen signs of physical and mental progress from both quarterbacks over the summer. His hope is that a couple weeks into camp the Owls will make a decision on their quarterback and never look back.
In reality, that desire may prove unrealistic – and Partridge recognizes that possibility.
"If the person who is deemed the backup progresses to the point where he's starting to perform better than what we've declared as a starter then there could be a change down the road," Partridge said.

FAUOwlAccess.com Projected Fall Depth Chart
Jason Driskel (6-2, 210, R-So.)
Threw for 965 yards and three touchdowns last season. Better runner of the two. Threw for two TDs but also tossed an interception in the spring game.
-OR-
Daniel Parr (6-3, 190, R-Fr.)
Redshirted last season after leading Palm Beach Gardens-Dwyer to 2013 state Class 7A title. Came to FAU as an early enrollee in January of 2015, spurning a recruiting push from Miami. Threw for two TDs and ran for another in the spring game.
Steven Frank (6-4, 230, Fr.)
At first glance the big-bodied QB appears to be a throwback to the Howard Schnellenberger era. Strong armed and competitive, Partridge said Frank will "most likely" redshirt this season.
Trent Wessel (6-2, 190, Fr.)
Partridge would be comfortable using the walk-on in a game for a series or two in an emergency. "He's got a very cool composure about him. He's worked hard to learn the offense quickly. He's worked hard to build a relationship with coach Trickett and with me."
Joshua Cartwright (6-1, 180, R-Fr.)
Performed well on the scout team last season. Likely to reprise that role again.