BOCA RATON – Lane Kiffin could only hold his tongue for so long, and now he owes Conference USA $5,000.
Less than 24 hours after electing not to discuss some controversial calls in FAU's 36-31 loss to Marshall Kiffin, as he so often does, let his Twitter account do the talking.
On Saturday he tweeted a photo – not from Friday's game – of three people in referee uniforms wearing dark glasses and waking with seeing eye dogs. The implication? Friday night's referees had to be blind. The only piece of text in the tweet tagged Conference USA.
C-USA officials didn't take kindly to the tweet, announcing Sunday that Kiffin had been fined $5,000 for a violation of the league's sportsmanship policy.
"Conference USA has specific rules and standards regarding sportsmanship which have been adopted by our membership," Commissioner Judy MacLeod said in a release issued by the conference. "We have an ob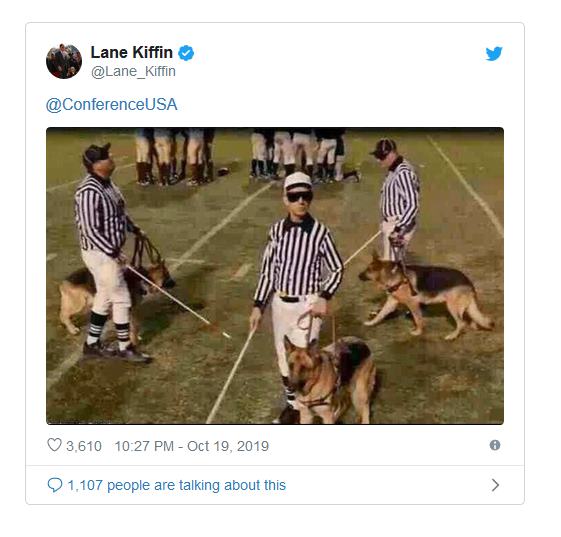 ligation to enforce our rules, including the prohibition of public criticism of officiating."
C-USA's decision to issue a fine surprised Kiffin.
"I sent what I thought was kind of a funny tweet," Kiffin said during his Sunday evening press conference. "Guess they didn't think it was as funny as I did."
He later added: "I guess there's not freedom to tweet around here."
Kiffin had several reasons to be miffed following the Owls loss.
Officials flagged FAU for two pass interference calls on Marshall's first drive of the game and three penalties overall on the possession that produced a field goal.
FAU didn't receive similar calls on its first two drives.
Frustrations only mounted from there. Officials often didn't agree on rules interpretations, initially missing a fair catch call on a Marshall kickoff return before conferencing to take the fair catch signal into account.
In the second half punt returner Dante Cousart fielded a punt after it bounded off a Marshall player. In the course of the return, Cousart fumbled and Marshall recovered. By rule, the ball is supposed to be placed at the spot where the Marshall player initially touched it, first down FAU. Officials originally gave the ball to Marshall before protests from the Owls prompted the proper ruling.
In the fourth quarter one official attempted to mark a pass interference all on a deep throw to Pico Harrison as a spot foul, prompting an argument within the crew before correctly deeming it a 15-yard penalty. On one fourth-quarter kickoff, the Marshall returner actually ran into an official while trying to field the ball.
And on Marshall's final drive, an unsportsmanlike conduct penalty which should have negated a 30-yard Brenden Knox run and forced a third-and-16 from the Thundering Herd 35 was deemed by officials to have been a dead ball foul, despite the flag being thrown well before FAU defenders brought down Knox. That lazy enforcement of the penalty gave Marshall a first down at the FAU 35.
"The film confirmed what I saw during the game – it wasn't close to being post-possession," Kiffin said. "That's frustrating because it obviously completely changed the game."
Further bothering Kiffin was that he said the conference agreed with his assessment and will discipline the crew, yet still fined him.
"They're in agreement with me that the officiating was definitely not on point during the game," Kiffin said, referring to C-USA officials. "There were some, 'inaccuracies' was the term they used, during the game."
Immediately following the game Kiffin elected not to comment on the officiating.
"I already made the decision I'm not going to get into officiating," Kiffin said. "I'm just not going to get into officiating. I don't know if you lose money in this conference, but you probably do and I don't have a lot any more. I'm not going to lose any."